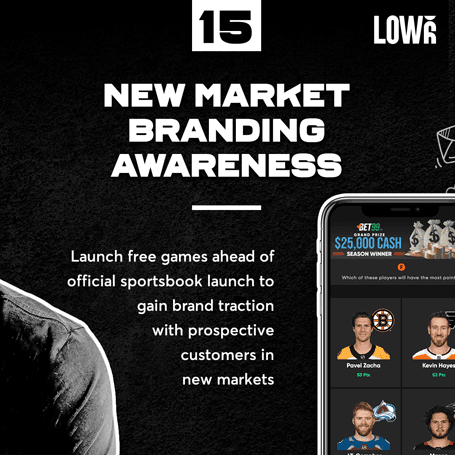 15. Upcoming Market Launch Brand Awareness
👀Get eyeballs on your brand ahead of your site going live. Gain traction with prospective customers interacting with your brand ahead of your Sportsbook launch through free-to-play games. Take your F2P game viral with a tiered cash leaderboard with peer-to-peer competition and start to build the community of your Hard-core fans early in your journey.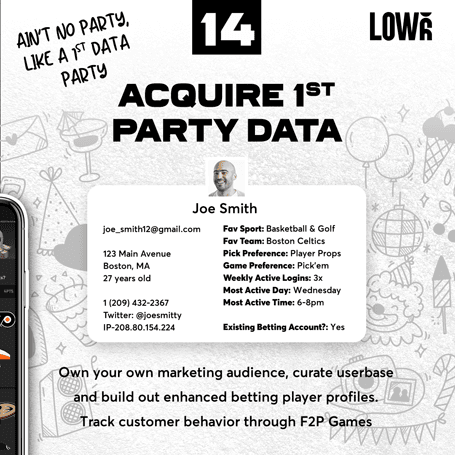 14. Acquire 1st Party Data, Build your own Marketing database
Operators spend oodles of money 💸 in hopes to convert external affiliate's audience. Imagine you could own that audience FOREVER, empowering your marketing department to market to an audience, when the time is right with the right messages. Qualified leads always lead to higher conversion rates. So next time you think of sending out a blanket general Match Deposit offering to a paid-for mass audience, think of how you can use F2P games to capture email, phone, address, age, IP – learn which channel they prefer to communicate and hit them up with the right message at the right time. Through F2P games, you can track when the users are most active, their preference for a betting type and serve back a relatable message/offering to the user to convert.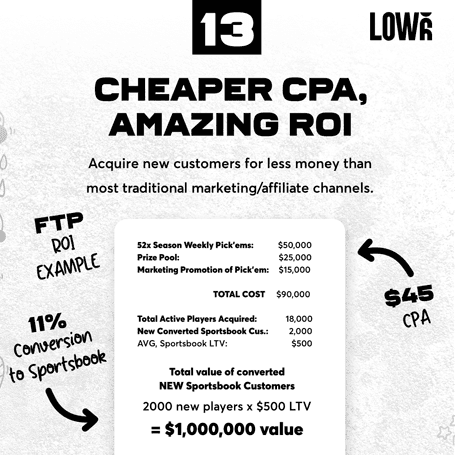 13. Acquire new customers for less money
An investment in Free to Play games will yield cheaper CPA's for your Sportsbook. I know that sounds hard for many to digest – "why would you invest in a product that produces no deposits"… but the proof is in the pudding 😋 Just ask any of our clients 😜... and why they keep ordering more of them. They become an essential part of the overall acquisition strategy to land new customers.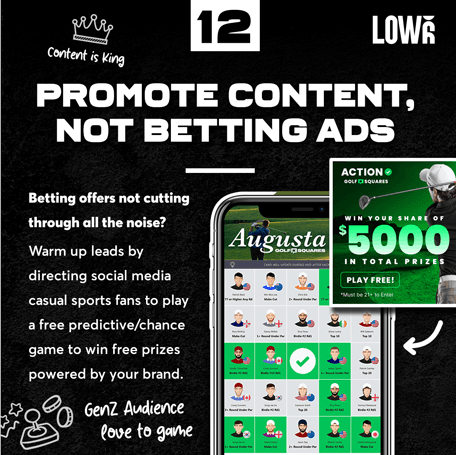 12. Content is King
Mix-in content promoted social media posts rather than spitting out more and more betting offers across social feeds. Casual sports fans love free contests (looking at you GenZ's and Millennials), especially when offering experiences as prizes or signed merchandise. Social Media Algorithms will push out content posts to wider audience that will increase your impressions of your brand. They see equal value in providing their information in exchange for a change to win sweet prizes.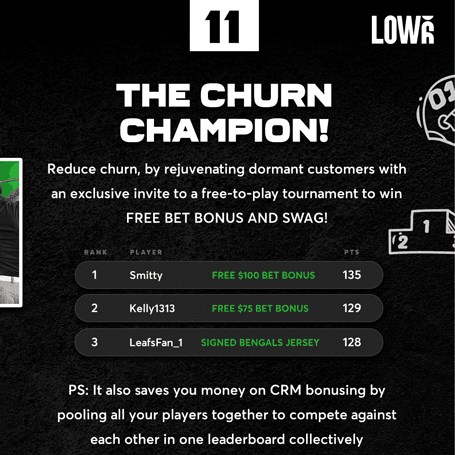 11. Rejuvenate dormant players and reduce churn
Don't keep sending out emails with free bet credits / bonus blindly to everyone who hits a specific threshold in your CRM… There is a better way…. Rather than sending out 10,000 emails to claim free $5 ($50,000 total in free bet credit giveaway), send out an exclusive invite to participate in a free pick'em tourney with total of $20,000 bet credits. Offer the tournaments weekly to reduce churn from players who hit $0 in their accounts and maintain engagement on your site with free games to play to earn free bet credits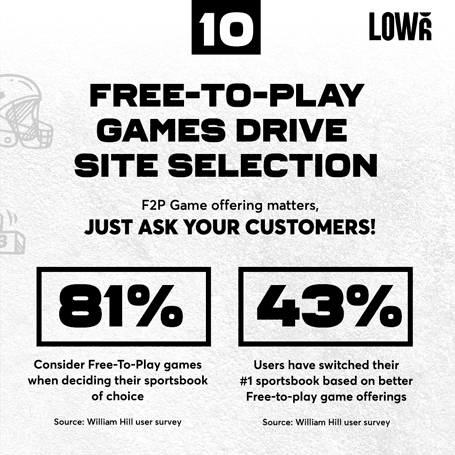 10. Free to Play games matter, just as your customers
Survey says customers look at Free to play games when deciding which Sportsbook to signup for. In fact, 81% of surveyed igaming customers consider Free-to-Play offerings when looking to sign-up for a Sportsbook. So much so that 43% of users have actually switched their go-to betting site based on better F2P game offerings on another site.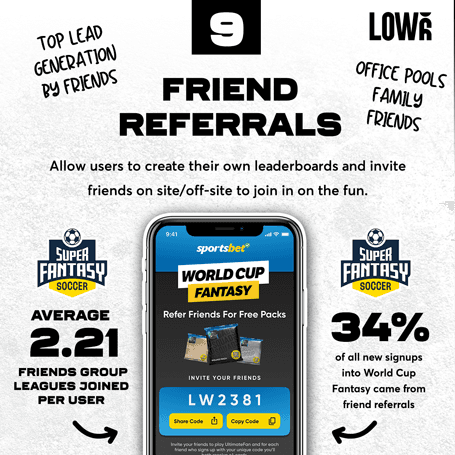 9. Friend Referrals
All Low6 games come equipped with social leaderboards and the ability for any user to create their own leagues and invite friends, family, coworkers to compete against them for ultimate bragging rights! Super Fantasy Soccer powered by Sportsbet.com.au saw 34% of all signups to the World Cup fantasy game were direct invites from friends asking their mates to play against them. Some operators require users to have a Sportsbook account to access their free-to-play games that drive direct Sportsbook signups, whilst other operators keep a simple reg to reach as many people organically as possible.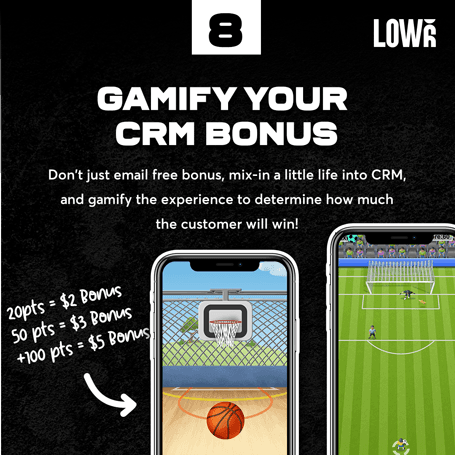 8. Gamify your CRM bonus
Experiential experiences are at the heart of GenZ mindset. Mix-in a little life into your CRM and gamify the experience to determine how much the customer will win in free bet credits. Ads a unique way to push out bonuses and ultimately puts the reward in the hands of the customer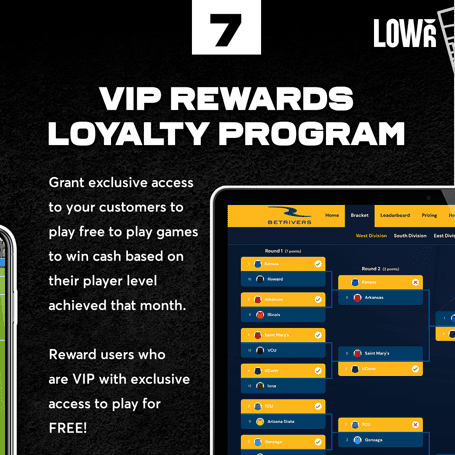 7. VIP Rewards loyalty program
Grant exclusive access to participate in free tournaments / contests based on players threshold/segmentation/level within your CRM. Advertise to your userbase the rewards for levelling up within your brand. "Next level - earn free entry into our NBA Bingo!"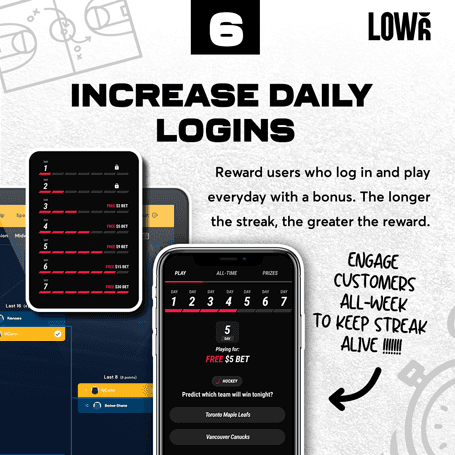 6. Increase daily Logins
From talking to operators on a consistent basis the 2023 KPI that kept coming up was "Daily Activity". Operators looking for customers to increase how often they login per week/ per month. In North America, upon integrating daily/weekly Free-to-Play games into sportsbook sites/apps we saw users login in an additional 2.5x more days per week then without (1x day). The increased login activity (+2.5 days) resulted in those same customers placing an additional 1.1x more bets per week. Activating login streak games have also seen transformative behaviour changes for operators as well. In Europe we've increased average monthly logins from 5x per month to 14x per month. Most engagement is encouraged by FOMO of missing out on participation in F2P games with cumulative prizing functionality.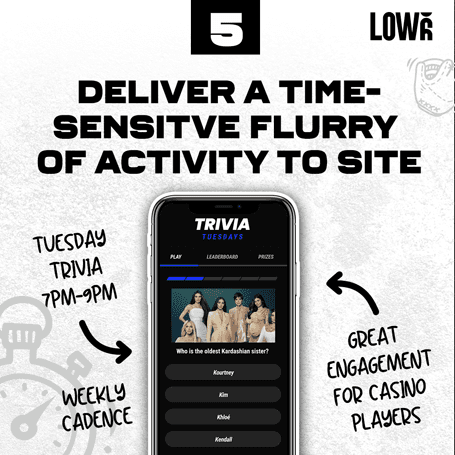 5. Drive a flurry of activity within a set time period
"Every Tuesday, join us for Trivia from 7-9pm!" – that headline says it all. Create a cadence of a flurry of LIVE interaction on your sports betting website or app at a specified time. Opportunity to deliver ads/promos to active users. One of the best advantages is to bring your community of players together, a social event, where users can chat and/or compete against familiar "usernames" and befriend and interact with other fans of your site.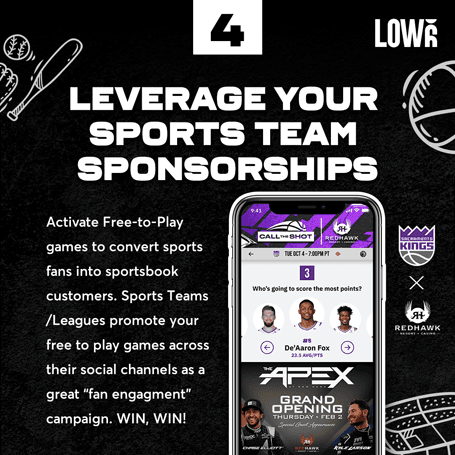 4. Leverage your sports team sponsorships with free-to-play games
Leverage your sports team/league sponsorship by activating free to play games to convert their fans into your customers. Great tool for capturing their fans 1st party data! F2P games are also family-friendly safe for social media, a value-add for their fans and most importantly a digital fan engagement program they can integrate directly into their website/app.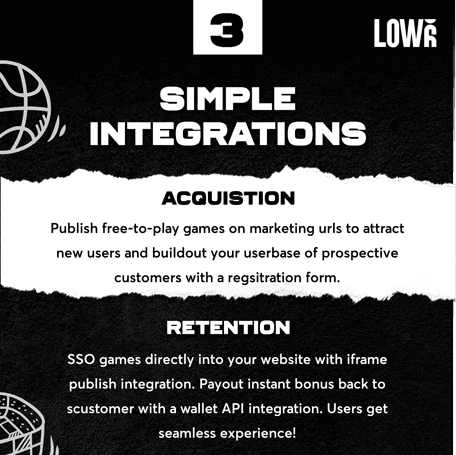 3. Integrations
Integrate your F2P games directly into your Sportsbook via iframe for a seamless experience or publish your games on a marketing url off-site for lead gen acquisition. Some operators even publish the games inside web articles or content pieces to drive engagement. Best practice is to create a Free to Play gaming page on your website and/or app where you house all your free to play games. SSO (Single sign-on) existing Sportsbook users to access the games in the front-end and enable instant bonus prize payouts via wallet API integration to create a complete 360 solution.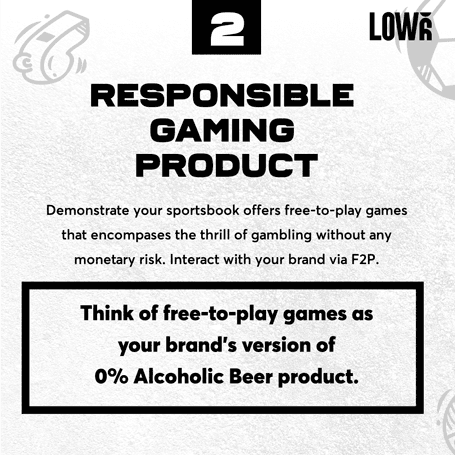 2. Responsible Gaming
An alternative way to think of Free-To-Play games is as your brand's 0% Alcoholic Beer. Demonstrate your Sportsbook has alternative option that encompasses the thrill of gambling without any monetary risk. Allows users to interact with your brand via F2P even when their wallet has no funds remaining.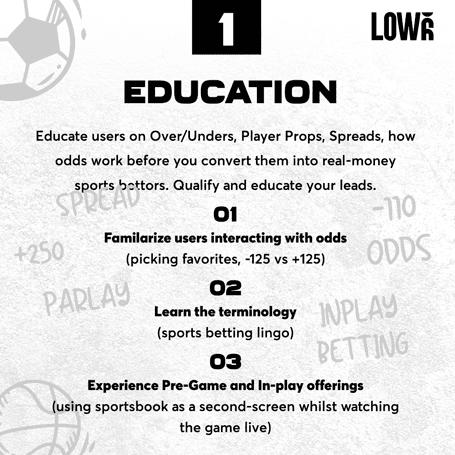 1. Education
In new markets, such as North America, where sports betting is still in its infancy, Free to play games helps educate the casual sports fan about sports betting in an interactive form. Educate users on Over/Unders, Player Props, Spreads how to read and understand odds prior to converting over to real-money betting. Allows users to familiarize with picking favourites (-125 vs +110), learn sports betting terminology and lingo and experience pre-game and in-play offerings. Watching live odds change with every outcome/event of a match and following along the game live with a second-screen. Experience the Action with a mobile device in hand whilst watching the big game on TV.
So whether your Sportsbook decides to run pick'ems, predictive, bracket, survivor pools, fantasy sports, trivia, sports bingo, tournaments and/or a brand concept your product team has cooked up, Low6 can take your games to the next level.
If you think it, we can build it!
The technology available today to track, analyze and report customer behaviour engaging in gamification has never been so valuable than this moment to qualify and educate leads.
FTP most generally provides higher conversion to monetize customers and ultimately increase LTV of your customers.